Friends of the Library
Since 1941, the Friends of the Elmhurst Public Library have enriched the Library's resources and supported Library programs through funds from their dues and various fundraising ventures. Their purpose is to maintain an association of persons interested in the Library; to increase the facilities and services of the Elmhurst Public Library; to secure materials for the Library which are beyond the scope of the Library's ordinary budget and thus to enrich the cultural opportunities available to the citizens of Elmhurst. Some of the most notable projects undertaken by the Friends include:
Donating funds for prizes for thousands of children, teens, and adults in the popular summer reading program.
Dedicating the benches at the Library entrances.
Purchasing eReaders for kids, teens, and adults to check out.
Supporting the "Elmhurst READS" program.
Friends Annual Meeting: Bread Making with Little Goat Bakery
Thursday, Nov. 9 • 7 p.m. • Large Meeting Room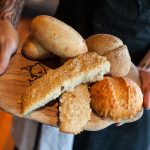 Join the Friends and attend the Annual Meeting, where Little Goat Bakery Head Baker Gina Mangiameli explains what it's like working for one of Chicago's most well-known restaurant groups. Learn how the bakery supplies Girl & the Goat, Duck Duck Goat, and Little Goat Diner with baked goods and enjoy delicious samples. Only Friends of the Library members can attend this event as part of the Annual Meeting Thursday, Nov. 9 at 7 p.m. Interested in attending? Fill out the form at this link to join the Friends on their mission to support the Elmhurst Public Library!
Click here to join the Friends!
Current officers are:
Kathy Profita, President
Joel Bernstein, Vice President
Suzanne Sestan, Secretary
Debbie Deakin, Treasurer
Special Committee Members, appointed by Friends President:
Mauruti Bhorade
Genevieve Barratt
Jackie Crnkovich
Susan Foster