The Kids' Library is a fun and open environment for children from birth through eighth grade, and the people who teach and care for them. Full of great resources like books, audiobooks, music, movies, CDs, CD-ROMs and magazines, the Kids' Library is here to help children develop reading skills and a desire to explore, learn and grow.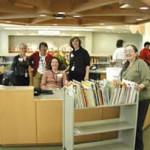 THE HELP DESK
Stop by our friendly help desk with any questions or just to say hello! Librarians are always available to help find books or information.
BOARD BOOKS
Board books, which are durable and sturdy books made especially for young children, are a fun way to introduce new readers to storybooks.
PICTURE BOOKS
Browse our collection of nearly 15,000 picture books and pick out old favorites and new stories.
BEGINNING READERS
Marked with bright green tape on the spine, our easiest beginning books are perfect for beginning readers, featuring manageable vocabulary and large print.
TOYS
The Kids' Library has a large collection of educational toys and games, including puppets, puzzles, and learning games available for checkout.
STORYTIME ROOM
Designed with the beauty of local Wilder Park in mind, the Storytime Room features murals created by local artists and is a fun place to come and enjoy stories and other programs.
COMPUTERS
Whether you are typing a report, searching the Internet, or using CD-ROM games to develop reading, math and thinking skills, our computer area is the place to be. The Internet stations in the Kids' Library are filtered, and educational games are preloaded for your convenience.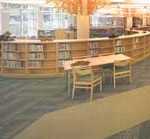 HOMEWORK SHELF
When a teacher requests that books be pulled for a class assignment, the books are placed on the Homework Shelf. These books are either available for checkout or labeled "for library use only," depending on availability. The Homework Shelves are located in the reference area, near the Help Desk.
LARGE-TYPE BOOKS
A small collection of fiction books in large-type format are available for checkout. Titles in this collection are usually classics or bestselling children's books.
FOREIGN LANGUAGE MATERIALS
An assortment of books, DVDs, videos and CD-ROMS are also available in languages other than English. Bilingual board books and picture books are offered for younger readers. Instructional materials for learning a foreign language are also available, including the popular Muzzy kits published by the BBC.
MAGAZINES
Periodicals for children are located at the east end of the Kids' Library. The library keeps issues of children's magazines for two years, and all but the most current month's issue may be checked out for one week. Also, check out "e-zines" –online issues of popular magazines—which can be accessed here in the library or at your own home. Many of these e-zines include games, contests and other fun activities. Click here to see available e-zines.
DISPLAY SHELVES
See what the library and the book community recommend. The display shelves are on the west wall of the Kids' Library behind the reference collection.
PARENT/TEACHER SHELVES
Find books that have games to play with toddlers, guides to encourage young readers, and parenting books with tips for solving common child-rearing problems. Teachers can find fresh ideas for their classrooms, too, in this helpful collection full of resources.
REFERENCE COLLECTION
For in-library use only, the Reference Collection is made up of hundreds of books that cover a wide range of subjects. Check facts or get introduced to a topic you didn't know much about with encyclopedias, biographies, sports reference books, geography and science resources, etc. You can photocopy selections from reference books to take with you, too!