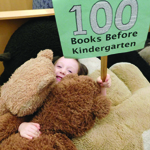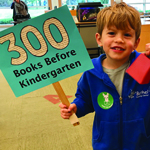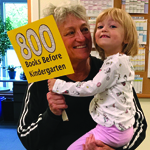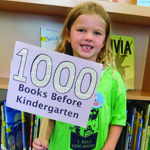 Reading with your child is the single most important activity you can do to help your child succeed as they grow into reading. The 1,000 Books Before Kindergarten program is a great way to ensure that your child gets that critical reading time. The goal is to read 1,000 books to your infant, toddler, or preschooler before they start Kindergarten. Choose any books you like, and keep track each time your child is read to by you, a teacher, or anyone else.
Pick up a recording sheet at the Kids' desk, or you can download your first one here. If you'd rather go paperless, you can use the 1000 Books app to keep track (app downloading instructions are here).
When you've read your first 100 books, come to the Kids' Library to register with your EPL card and celebrate. Come back for each 100-book milestone and celebrate with a fun activity and photo shoot. At 1,000-books, your child earns a T-Shirt and an invitation to a graduation party (EPL card required). 1,000 books before kindergarten – the idea is simple, but the benefits last a lifetime!