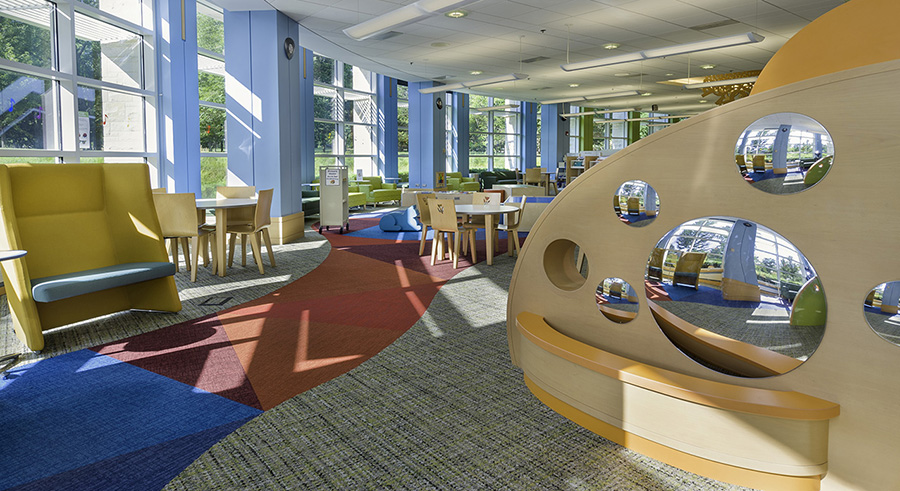 The Learning Garden
The Learning Garden was created for children aged birth to six, to foster early literacy, a love of reading, and school readiness skills.
Toys, puppets, puzzles, books, and activities in the Learning Garden are provided to foster early literacy. These materials should stay in the Learning Garden.
Make the Most of Your Visit to the Learning Garden
Playing together builds loving bonds. Meet friends, learn to introduce yourself, share, and take turns.
Storytelling together through puppet play teaches how to tell a story with a beginning, middle, and end.
Building together lets blocks and Duplos become trees, forts, and animals. Shapes and colors combine to make new worlds.
Tidying together after play builds organization habits. Choosing and keeping track of library books promotes decision-making and responsibility.
Reading together in a cozy chair creates a positive association that lasts a lifetime.
Learning Garden Guidelines
The Learning Garden is for children aged birth to six years old. Children must be supervised by someone who is at least 12 years old, and that person is responsible for the children's safety, comfort, and behavior.
There must be at least one adult for every four children. Older siblings may accompany younger siblings when an adult is present. Adults unaccompanied by a child aged birth to six may not visit the Learning Garden.
Keep the focus on your child. Keep the use of electronic devices to a minimum.
Everyone should wear shoes at all times and use "inside voices."
For your convenience, changing stations are available in all of the Library's restrooms.
Food is not allowed anywhere in the Kids' Library, but covered drinks are okay.
Help your child put away puppets, toys, and other materials when you are finished playing with them.