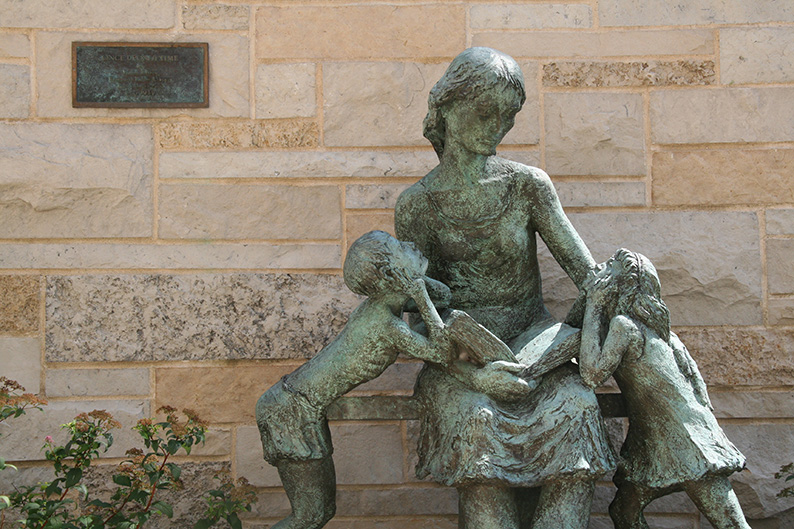 If you visit the Children's Reading Garden at the southwest corner of the library, you will find a striking reminder of the joy of reading.
Unveiled in 1989, the bronze sculpture Once Upon a Time is the work of the late Frank Eliscu. Eliscu's statue of a woman reading to two small children captures the warm and enchanting relationship reading creates.
The statue was the first piece of public sculpture in the city of Elmhurst, Illinois. It was purchased with money from The Gavin Memorial Fund, a bequest to the Library from Edith VanDorn Gavin.
At the unveiling ceremony, then Elmhurst Public Library Board of Trustees President John Carroll explained that the Board had commissioned Eliscu to "create a piece that would idealize books and reading and all the joys they can bring to young people and their families."
The statue was moved from its original location when the new library building opened in 2003.
Eliscu, a well-know and much-heralded American artist, said of Once Upon A Time, "I think this is my best."
Perhaps best known for the All-American Football Trophy, often called the Heisman Trophy, Eliscu enjoyed a long and varied career. In addition to Once Upon A Time and The Heisman, Eliscu's works grace museums, banks, religious buildings, corporate headquarters, and libraries throughout the country.
An article in the Sarasota Florida Herald-Tribune said Eliscu believed artists are meant to nudge people a little, "to make us stop and look at something in a new way."