Kids' Library Renovation 2017-2018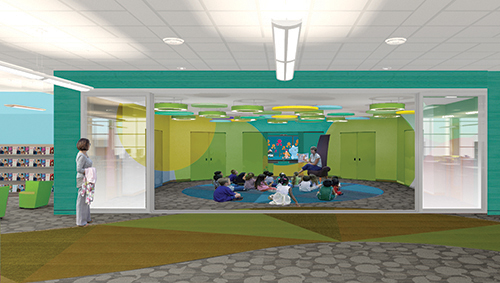 The Kids' Library is the heart of the building, typically humming with activity as children read, learn, explore, and play with parents and caregivers nearby.
The way children's libraries are used is changing, and that includes Elmhurst Kids' Library. In addition to some much-needed sprucing up from heavy use, the Kids' Library is in need of more space for pre-readers, technology instruction, and more.
Starting in November 2017, we are reconfiguring and updating the Kids' Library to better accommodate these growing needs. Expect to see:
An Expanded Learning Garden
Serving our youngest patrons, the Learning Garden is fast feeling too small for all the busy activities that happen in that area. The renovation relocates the Learning Garden to the east end of the department, where natural light streams in from two directions, with views of Wilder Park. The much larger space has plenty of room for seating, playing, and exploring. A puppet stage, kitchen set, train and block table, and early literacy activities keep little hands and minds active.
The entire collection of picture books is kept in the new Learning Garden, making it easy for pre-readers and beginning readers to explore the bookshelves in their very own space.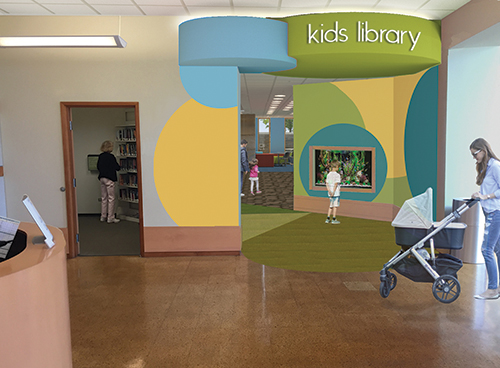 The Trilby Porter Eric Carle Collection
On the wall in the new Learning Garden, you'll find the permanent home of the Library's unique collection of original artwork by Eric Carle, donated to the Library in 2016 from retired Elmhurst teacher Trilby Porter.
Inspired by the bright colors of Eric Carle's artwork, the new space reflects the vivid imagination of our littlest readers, who use the Kids' Library to learn about the world around them.
A Kids' Computer Lab
As STEM (Science, Technology, Engineering, and Math) becomes more integral in our changing world, the Kids' Library is adding a Computer Lab with 11 stations so classes especially designed for kids are held right in the Kids' Library.

A Middle School Space
A dedicated space for middle schoolers features comfortable seating, video gaming space, and room for group study or project-based work.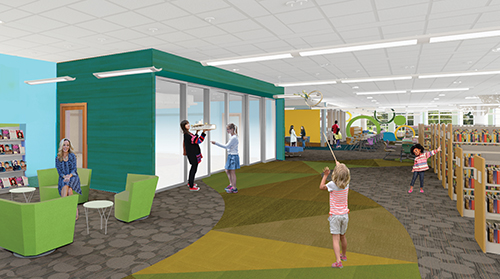 A Better Storytime Room
The Storytime Room stays in its current location, but gains square footage. A retractable glass wall makes the room more flexible and allows in natural light. Our programs have grown in attendance and the enlarged space accommodates more children for stories, puppets, crafts, and more.
Other Features
Dedicated craft area for pop-up programs.
New and flexible-use furniture, more seating, and most tables are wired with USB and electrical outlets.
Increased display areas featuring new and special-interest collections.
The Kids' Library remains open during the entire project, which is completed in phases. Portions of the first floor may be blocked off, but at no time will the whole space be closed.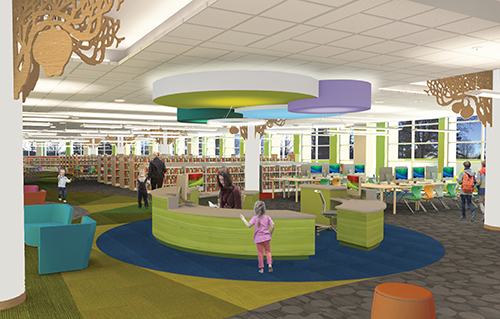 Starting in November 2017, the Kids' Library renovation proceeds in phases:
Phase 1: Shifting of the collection and re-carpeting those areas. Shelving for picture books and beginning readers installed in new Learning Garden space, and the space outfitted with furniture.
Phase 2: Continue carpeting and shifting furniture.

Phase 3:

Construct group study rooms, computer lab, and expand Storytime Room.

Phase 4:

Door constructed to access south lawn outside of Library. Middle school space constructed and outfitted. New Help Desk installed.
Phase 5: Redesign Kids' Library entrance.
Budget
Due to careful budgeting over a period of years, no property tax increase is required to fund this project.
Amid technological and societal changes, we are committed to providing you with the best possible resources you need to connect, create, and explore at EPL.