eNewspapers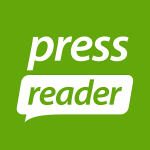 Love reading newspapers? Read them online with PressReader using your browser or the PressReader app!  Get instant online access to today's newspapers from around the world in full-color, full-page format, plus a small collection of magazines. This ever-changing collection currently includes more than 2,000 U.S. and international titles. Viewers can browse articles and other key content, such as pictures, advertisements, classifieds, and notices. The service also provides up to a 60-day backfile (depending on the title) and the ability to perform keyword searches across all titles and the entire backfile.
Titles include
Chicago Red Eye
Chicago Sun-Times
Chicago Tribune
Fast Company
Newsweek
For a complete list of titles, visit the site.
Browser Instructions
Reading newspapers with PressReader is simple using a browser.  Just click the link to the PressReader site above and select the newspaper you wish to read.  Then start reading!
App Instructions
The PressReader app can be downloaded from the links on the PressReader site or by searching for PressReader in the Google Play Store or App Store.
From inside the Library, the app will work automatically without logging in.
From outside the Library, you will need to follow these instructions:

Access PressReader on your device in any browser by authenticating with your library card and last name.
Click sign in and establish your free account with your email and password.
Download the app.
Sign in to your account on the app.
Following these instructions will log you on to PressReader for 48 hours. Revisit PressReader through any browser and log in to your account again to get 48 more hours of access to the app.
eNewspapers Video Tutorial available on our YouTube page.
Questions? Comments? Contact us at 630-279-8696 or reference@elmlib.org