Under Age 2 | 2 Yrs. – Gr. 1 | Grades 2-5 | Grades 6-8 | High School & Adults | Library Insiders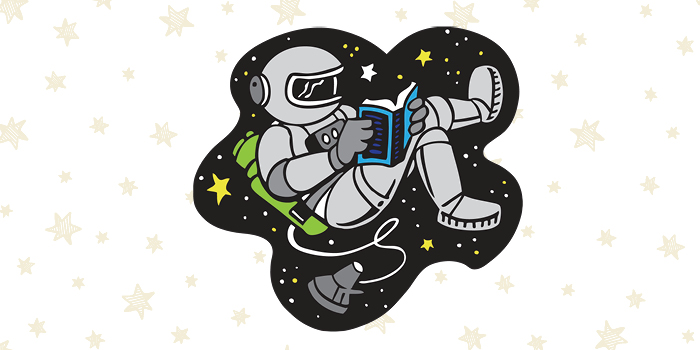 For kids entering Grades 6-8 in autumn
What is Summer Reading?
Summer is here! And so are the Library's summer reading clubs. Kids in Middle School (entering grades 6-8 in the autumn) are invited to be our guests this summer by joining A Universe of Stories program. The Library is bursting with creativity, programs, prize drawings, and so much more! The Summer Reading Program runs June 1-August 3.
Who can join?
Everyone who lives in Elmhurst, has an Elmhurst Public Library card, or attends an Elmhurst school (Grades 6-8) is welcome to participate. An Elmhurst Public Library Card, an Elmhurst School ID, or an Elmhurst School Report Card must be presented to register for the Kids' Summer Reading Program.
Where do I sign up and pick up my prizes?
Beginning Saturday, June 1, Middle School students can register at the Summer Reading Table in the Kids' Library. You'll receive a booklog to record your reading, a bookmark and a recycled book bag. Bonus- if you bring your recycled bag from last year when you register, you'll get a prize! In each booklog, you'll find a list of all the prizes you can earn!
Beginning June 8, you can pick up your prizes at the Summer Reading Table either as you earn them or all at once when you complete the program.

What should I read?
Anything you'd like! But if you need some suggestions, here's a few lists to get you started:
2019 Middle School Summer Reading List
Immaculate Conception
IC Summer Reading List TBA
Timothy Christian
2019 Summer Reading List for Grade 7
What activities can I participate in?
There are tons! From movie nights to musical events to DIY programs, there's something for everyone! You can view all the summer activities in the Fine Print magazine, or at our online calendar of middle school events. It lands in your mailboxes in late May, but if you need another look at it, the library has extra copies or you can view it online.

Contests
This summer, there are three creative contests for kids. The photo contest, writing contest, and the poster contest are open to children ages 5-14 and the winners receive a Barnes & Noble gift certificate! Download the entry forms here: