The Makery will reopen April 1 by reservation only.
User Guide: Inventables Carvey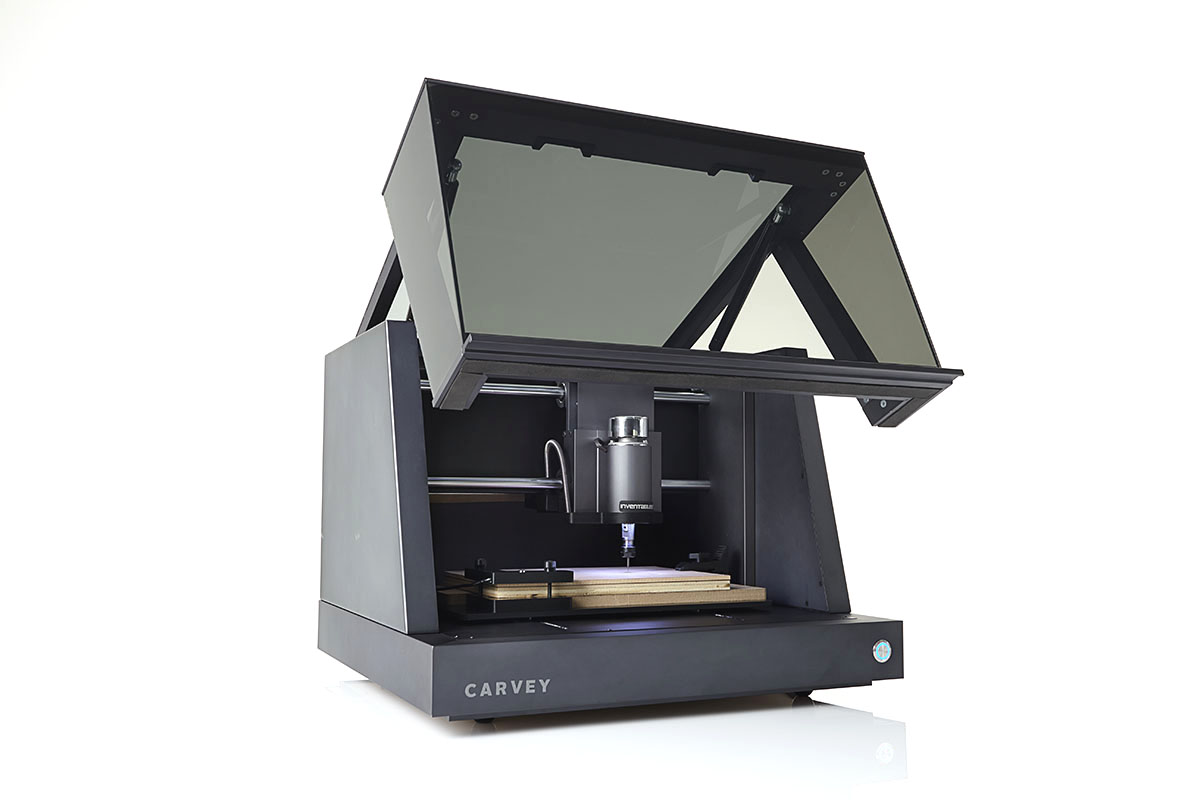 What is it?
The Carvey is a 3D carving machine. It uses end mills to carve away material. This is a version of subtractive manufacturing meaning you end up with a 3D object by carving and cutting away from a solid original piece of material.
Carvey uses a very basic, easy to use, free program called Easel for the design and preparation of projects. You can create a profile with Inventables and create your designs at home, save them on your account, and use a computer in the makerspace hooked up to Carvey to cut out your design!
For more info on end milling, read Maker's article "The Skinny on End Mills." Additional info can be found on Inventables' Support page.
What can I do?
You can carve into materials to create stamps, signs, plaques, key holders, cutting boards, candle holders, and other decor items!
What does the Makery provide?
The Carvey
A computer to access Easel

Patron's should create their own Easel account
The Makery does not subscribe to Easel Pro

Clamps to secure materials
Bits for the Carvey
For help choosing the best bit for your project, refer to Inventables' Carving Bits 101 video or Bit Chart. To request additional bits, please email makery@elmlib.org. Some of the bits sold by Inventables require an Easel Pro subscription.
What do I need?
A Design

Your design must be in Easel to use the Carvey.

Easel is free to use and runs through your web browser. You must create an account with Inventables to save your projects to Easel. You do not need to come into the Library to use Easel. Any project you make in Easel can be accessed by signing into your account on Easel's website: https://www.inventables.com/technologies/easel

Easel can import .JPEG, .PNG, .SVG, .DXF, and G-Code files

Material to Carve (See Next Section Below)
Anywhere from 20 minutes for a small design to a couple hours for a larger/deeper design.

The deeper a design is, the longer it takes Carvey to carve away the material. Easel will give an estimate of your projects time to carve in the lower right hand corner of the screen.
The library does not sell materials to use with the Carvey.
There is no cost to use the machine.
Some features and bits require an Easel Pro subscription, which the Library does not subscribe to.
What materials can I use?
Material must fit within the size of the work area:
Width (X-axis): 11.6 inches (29 cm)
Depth (Y-axis): 8 inches (20 cm)
Height (Z-axis): 1.75 inches** (4.5 cm)
**Note: Maximum cut depth is 0.87 inches.
Please cut any materials down before coming in to use Carvey.
Inventables suggests that only soft metal should be used with Carvey. The mill ends for such a small scale hobby machine aren't strong enough to carve through most metals. Therefore, we will not be able to carve anything more than a soft aluminum or copper.
Common materials include:
ABS
Bamboo
Cast Acrylic*
Corian
Expanded PVC
HDPE
Linoleum
MDF
PCB
Plywood
Most wood
*Cast acrylic is difficult to use and results will vary based on quality, settings, and size of the design. Recommended cut settings for acrylic: 100 in/min Feed Rate, 12 in/min Plunge Rate, and 0.01 in Depth per Pass. The machine will not carve extruded acrylic, like Plexiglass.
Learn
Watch our demonstration videos:
Register for any upcoming classes at Elmhurst Public Library
Use the Inventable's Projects page to copy project files and find instructions. Note: Many projects are meant for the Inventable's X-Carve machine.
Inventable's Support offers articles on CNC milling and Easel Tutorials.
The Inventables YouTube Channel offers videos of project ideas, project tutorials, and more.
Where can I buy materials?
Inventables online store is a great place to buy online. Their materials come pre-sized to fit onto Carvey's build plate.
Most hobby, craft, or home improvement stores carry materials that will work in Carvey.
Elmhurst Public Library does not endorse nor profit from these links. These are suggestions of where you can purchase items to use in the Makery but are by no means an exhaustive list. 
Reserve the Carvey
Call (630) 279-8696 or email makery@elmlib.org about your reservation
Reservations are limited to one-hour
One reservation a day
Maximum of two upcoming reservations
Reservation requests can be made every week starting Monday at 9:00 a.m.
Note: First time users will receive an email request to opt-in to receive email from the system. The link in this email must be clicked within 24 hours.