Accessibility Equipment and Services
The Elmhurst Public Library is a fully accessible building.
If you have difficulty walking, you may check out a wheelchair at the Checkout Desk in the lobby.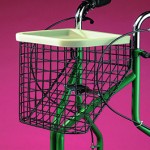 If you need a hand while browsing at EPL, you may check out a wheeled cart from the Checkout Desk.
Staff will be happy to take your checked out materials to the Drive Up window so that you can pick them up in your car instead of carrying them out to the parking lot.
You may also request that library materials be pulled from the shelves and held at the Drive Up window for you to pick up without leaving your car. Just call 630-279-8696 at least an hour in advance of coming to the library.
See the Assistive Technology page for information on specific equipment, software, materials and services for people with disabilities.