3D Printers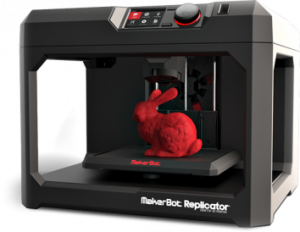 What is it?
With MakerBot 3D printers, users can design and create real items, including prototypes. These 3D printers lay down material, layer by layer until the full design is rendered.
What can I make?
Patrons have created necklaces, favorite movie characters, pencil holders, hair accessories, tiny dragons, and more.
Library staff will then review the request and print the items. Patrons will be notified when their print job has finished. The Library reserves the right to refuse any 3D print that does not comply with policy, size, or time restrictions. If a 3D print is not picked up after 30 days, it becomes the Library's property and a charge will be put on the patron's library card. Printing designs are not guaranteed to come out as intended and can be affected by any number of variables. The Library does not refund printing fees for completed items which do not come out as intended. To see full Makery equipment usage and rules, see the Makerspace Policy.
What does the Makery provide?
What do I need?
Learn
Tips & Tricks