Early Literacy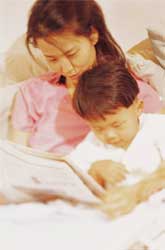 Reading Readiness for Babies, Toddlers and Preschoolers
What is early literacy? Early literacy is everything children know about communication, language, reading and writing before they can actually read and write.
Why Is Early Literacy Important?
Research shows that children get ready to read years before they start school, even from birth. The development of early literacy skills through early experiences with language, books and stories is critically linked to a child's success in learning to read.
What can parents and caregivers do? Parents are important in helping their children get ready to read because:
Children learn best when they are in a good mood, and you know their moods best
You can help your children learn reading skills in ways that are easiest for them
Children learn best by doing things—and they love doing things with you
Take every chance you have to read with your children, tell and talk about stories, say nursery rhymes and sing songs. Early literacy is not the teaching of reading. Your child will learn how to read in school. The most important thing you can do to foster early literacy is to provide an atmosphere that's fun, verbal and stimulating. When you read, talk and play with your child, you're stimulating the growth of your child's brain and building the connections that will become the building blocks for reading.
How can you help your child on their early literacy journey to get ready to read?
The Public Library Association and the Association for Library Service to Children suggest 5 ways to get every child ready to read:
Read:  Reading together is the single most important way to help children get ready to read.  You're never too old to enjoy listening to a good book.
Talk:  Talking with children is one of the best ways to help them learn new words and information. It also keeps families more connected.
Sing:  Songs are a natural way for children to learn about and play with language.  No worries if your voice is not rock star perfect – if you can talk, you can sing! Your child's favorite voice is yours.
Write:  Writing and reading go together and help children learn that written words stand for spoken language. Scribbling and drawing are forms of writing too and have meaning to your child.
Play:  Playing is one of the primary ways young children learn about how the world works. It also helps them learn language and think symbolically – "this box is a rocket ship".
Share some favorite rhymes
Sing along with EPL staff as they present some favorite nursery rhymes and songs. Click here for the video link.
Click here for a print copy of our nursery rhyme sheet – Oh Baby, Have We Got Rhymes to Share!
1,000 Books Before Kindergarten

Reading with your child is the single most important activity you can do to help your child succeed as they grow into reading. The 1,000 Books Before Kindergarten program is a great way to ensure that your child gets that critical reading time. The goal is to read 1,000 books to your infant, toddler, or preschooler before they start Kindergarten. Choose any books you like, and keep track each time your child is read to by you, a teacher, or anyone else.  Pick up a recording sheet at the Kids' desk, or you can download your sheets here (links coming soon). If you'd rather go paperless, you can use the 1000 Books app to keep track (app downloading instructions are here).
When you've read your first 100 books, come to the Kids' Library to register with your EPL card and celebrate. Come back for each 100-book milestone and celebrate with a fun activity and photo shoot. At 1,000-books, your child earns a T-Shirt and an invitation to a graduation party (EPL card required). 1,000 books before kindergarten – the idea is simple, but the benefits last a lifetime!
Early Literacy Kits
To assist parents and caregivers in helping their children develop pre-reading skills, the Kids' Library now has Literacy Kits available for checkout. These kits contain books, puzzles, games and/or a puppet to help reinforce the above skills and basic concepts such as the alphabet, opposites, matching, etc.
Check out our recommended books for babies, toddlers and preschoolers: