One Book, One Community is an opportunity for the entire Elmhurst community to read and engage with the same book. The three titles on this page were singled out for their readability, quality, and potential to inspire thought-provoking discussion while introducing readers to new topics.
Vote below to choose the book for 2018's One Book, One Community. The top pick becomes the focus of our summer reading program. Voting ends January 31. We'll announce the title in the summer issue of Fine Print.
Read more about the titles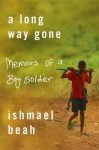 A Long Way Gone by Ishmael Beah This is how wars are fought now: by children, hopped-up on drugs and wielding AK-47s. Children have become soldiers of choice. In the more than fifty conflicts going on worldwide, it is estimated that there are some 300,000 child soldiers. Ishmael Beah used to be one of them. What is war like through the eyes of a child soldier? How does one become a killer? How does one stop? Child soldiers have been profiled by journalists, and novelists have struggled to imagine their lives. But until now, there has not been a first-person account from someone who came through this hell and survived. In A Long Way Gone, Beah, at twenty-five years old, tells a riveting story: how at the age of twelve, he fled attacking rebels and wandered a land rendered unrecognizable by violence. By thirteen, he'd been picked up by the government army, and Beah, a gentle boy at heart, found that he was capable of truly terrible acts.
Lab Girl by Hope Jahren Lab Girl is about work, love, and the mountains that can be moved when those come together. It is told through Jahren's remarkable stories: about her childhood in rural Minnesota with an uncompromising mother, and a father who encouraged hours of play in his classroom's labs. Jahren chronicles her journey through academia as a woman with manic-depression who finds a sanctuary in science. Along the way, she meets a cast of characters including her brilliant, wounded lab partner and best friend Bill; their sometimes rogue adventures in science take them all over the world. Lab Girl is an eloquent demonstration of what can happen when you find the stamina, passion, and sense of sacrifice needed to make a life out of what you truly love, as you discover along the way the person you were meant to be.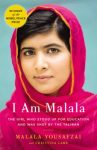 I Am Malala by Malala Yousafzai When the Taliban took control of the Swat Valley in Pakistan, one girl spoke out. Malala Yousafzai refused to be silenced and fought for her right to an education. On Tuesday, October 9, 2012, when she was fifteen, she almost paid the ultimate price. She was shot in the head at point-blank range while riding the bus home from school, and few expected her to survive. Instead, Yousafzai's miraculous recovery has taken her on an extraordinary journey. At sixteen, she became a global symbol of peaceful protest and at 17, was the youngest person to be awarded the Nobel Peace Prize. This is the remarkable tale of a family uprooted by global terrorism, of the fight for girls' education, of a father who, himself a school owner, championed and encouraged his daughter to write and attend school, and of brave parents who have a fierce love for their daughter in a society that prizes sons. I Am Malala will make you believe in the power of one person's voice to inspire change in the world.